Read what others are saying about Andrew's acclaimed newest book with coauthor Chris Saade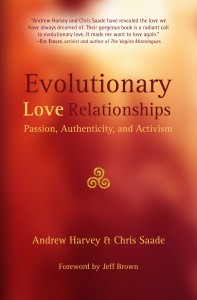 Available for purchase on Amazon.com
Eve Ensler
In Evolutionary Love Relations, Andrew Harvey and Chris Saade have revealed
the love we have always dreamed of. Their gorgeous book is a radiant call to
evolutionary love:
where sex can be holy, orgasm a conduit to the divine, and intimate love,
the expansion of justice, peace, unity on this earth..
It made me want to love again.
Eve Ensler, activist and author of The Vagina Monologues and In the Body of
the World
Justine Willis Toms
It is a grace when two people come together in loving companionship. When that companionship becomes a dynamic force for good in the world, it is blessed beyond measure. I've experienced such a fulfilling relationship in my life and it is my tremendous honor to recommend Evolutionary Love Relationships. Harvey and Saade have written and inspired call to action as we walk hand-in-hand toward our evolutionary future.
Justine Willis Toms
Co-founder and host of New Dimensions Radio
Author Small Pleasures: Finding Grace in a Chaotic World
Will Wilkinson
Every relationship can be enriched and deepened, courtesy of the wisdom that pervades and transmits from this catalytic collaboration between two authentically evocative writers. Many of us could have foregone years of frustrating therapy had we accessed this fount of practical inspiration before the honeymoon ended. Imagine, focusing our sweet strong harvest of intimacy for sacred service in the world. Is anybody else writing about this? Romance will never be the same!
– Will Wilkinson, author, mentor, producer
Mona Lisa Schulz
Re-inventing love, sexuality and relationships to transform the world? With  Mass-shooting, terrorism, racism, what the world needs now is "love sweet love" with Andrew Harvey and Chris Saade showing us why and how.. I LOVE these men and I LOVE this book.
Mona Lisa Schulz MD, PhD Author: Heal Your Mind: Your Prescription for Wholeness using Medicine, Affirmations and Intuition.
Caroline Myss
"Evolutionary Love Relationships explores the power of love from a new and inspiring perspective. Loving another can bring out a desire to make the world a better place and to bring out the best in your partner. Life not all about you after all. Love means life is about the both of you."
Caroline Myss
Author of Anatomy of the Spirit
Seymour Bernstein 
In these desperate times when global warming threatens to end all life, and terrorist activities multiply by alarming proportions, Andrew Harvey and Chris Saade come to the rescue of the human race by suggesting a solution that is perhaps more powerful because of its simplicity and obviousness–love. Why not, they suggest, direct the very transforming power of love towards mankind as a health-giving, harmonizing force. It is a concept that at once augments the love that one person feels towards one another, and heals the planet at the time.
James O'Dea
If you have been crying in the desert of a world that shatters every attempt to truly liberate love and sacred passion Evolutionary Love Relationships will not only quench your thirst, its mystical fire and visionary wisdom will ignite soulful and embodied rebirth. I celebrate these profoundly inspired teachings– they touch the very core of what matters most to me and millions of others. (James O'Dea author of The Conscious Activist: Where Activism Meets Mysticism)

Terry Patten
Fun, fresh and alive. This book transmits a radiant vision for a kind of relationship that is just beginning to emerge, but which is already an urgent necessity—and it does so with clear eyes. The authors speak penetratingly and compassionately to anyone yearning for a truly evolutionary partnership, or already co-creating one. Marriage is evolving, and what we are daring to dream for now is something new. Behold what is emerging: dynamic love relationships between unique, autonomous, passionate individuals who are inspired by divine love and dedicated to a higher purpose.
Susan Frybort 
"Love is more than a river of warm flowing sentiments and emotion; love is living, evolving, and in action. And the world is urgently crying out for empowered couples to expand their devotion beyond its borders by answering love's highest calling to be of service. Love is alive and in action when two hearts join to become compassionately engaged with humanity's spiritual and material needs alike, and to allow their shared passion to break the banks and meet the necessities of our cherished earth. This book will inspire and instruct bonded pairs in any station of life to step closer to one another as they hearken to love's earnest call to preserve our planet and serve in tandem on every level."
—SUSAN FRYBORT, author of 'Hope is a Traveler', and 'Open Passages'.
Adam Bucko
"We're living in a world that is making less and less sense. Black kids are being executed on the streets of our cities by people who should be protecting them. Mother Earth is crying as we go on with "business as usual" refusing to address our damaging addictions to comfort and consumerism. Poverty is rising and we do nothing about more and more children being denied access to opportunities for a life they deserve. Our world needs healing. We need tools that can help us mobilize what's best in our souls and work for a world that shines with possibility, compassion and justice.  This book is such a tool. Read this, and your heart will be changed. Pray this, and it will enable you to find depth in human relationships that you didn't know was possible. Act on it, and it will help you dedicate your life to working for a world your heart knows is possible. It's time to stop playing small and settling for half-truths. What we need is a spiritual revolution. May these two wise teachers, through what they share in this book, take your hand and guide you into the center of your heart and empower you to live from there. The future of the world depends on it."
Adam Bucko, co-author of Occupy Spirituality: A Radical Vision for a New Generation and New Monasticism: An Interspiritual Manifesto for Contemplative Living
Anne Baring
This book will act as a guiding star to all humanity to deepen and expand our relationships in the light of a great evolutionary vision the world so desperately needs: a vision of loving service to each and all. "We were created as relational beings to relate in love to the entire planet… Love is and must be, love for all." This book carries a profound, urgent and timely message for the entire world.
Anne Baring, author of The Dream of the Cosmos: a Quest for the Soul
Arielle Ford
"Nearly twenty years ago my beloved husband, Brian Hilliard, taught me:  In basic arithmetic, one plus plus equals two but  in Soulmate Math, one plus one equals eleven and your love blesses and heals the world.  If you are ready to blow your heart open, embrace and exude your passion, and elevate your love to serve the world, then I highly suggest you use this book, Evolutionary Love Relationships, as your guide.  Now, more than ever, the world needs your love."
~Arielle Ford, author
Turn Your Mate Into Your Soulmate
Simran Singh
Evolutionary Love Relationships answers a deep world cry for purposeful connection. Andrew Harvey and Chris Saade's powerful foundation for social transformation through the synergistic elements of sacred activism, interdependence and Love-inspired action offers a deeply devotional way of being for 'the world'.
– Simran Singh, Author – Love Catalyst – 11:11 Media
Linda Bender  
"This powerful book is an inspired exploration of how the deep love we share in our personal relationships create
an inexhaustible reservoir of strength that can be utilized in service for the world.
A must-read for those seeking justice for all people, all animals, and the preservation of the vanishing beauty of our fragile world."
Dr Linda Bender  author of Animal Wisdom
Diane Berke
In this luminous guidebook, Andrew Harvey and Chris Saade richly and deeply explore the nature of, and path to, evolutionary love relationships. Their six keys to heart-centered living and evolutionary relationship building offer invaluable and practical guidance, not only to couples, but to spiritual and intentional communities that seek to contribute to and serve the healing of the world and the evolution of human consciousness.
Diane Berke, Founder and Spiritual Director, One Spirit Learning Alliance
Charlene Marshall 
To say that Andrew Harvey and Chris Saade have revealed the essence of loving relationships coupled with a fruit bearing life is an understatement.  Only exquisite giving and forgiving love – rooted in the soul – expands to include everyone and everything in its circle letting the benevolence of which Andrew and Chris speak become so enjoined with all created beings.  To quote Rumi: "Speak a new language so that the world will be a new world."  Evolutionary Love Relationships brings us that language and that new world.  It is the heart of the heart.
Charlene Marshall widow of Ambassador Anthony Marshall and two-time Tony Award winner for Best Play and Best Revival of a Play.
Lilly White
In one of his greatest poems, Rumi describes the effects and power of this force with matchless intensity and precision:
This Divine Gem will forever change your beliefs about love, how you love, the power of love. This book will awaken you to your world, your community, your culture, yourself.
Here you will find the balance you always pursued.  A light will burn in you as you read the truth surrounding love and you will be transformed , transported. You will become a conscious co-creator .  You will say to self ," go create God".
For the LOVE of God.
This book is a must read for anyone today wanting change. We begin with the adventure, LOVE, we then travel with hope and our journey never needs to end, we share with the collective and it passes to other generations.
Thank you Andrew & Chris.
Lilly White : author of 365 Ways to Power up Your Life & Madness, Addiction & Love
Lydia Salant
"A duet: Andrew Harvey and Chris Saade perform a duet, a counterpoint of
inspirational and intuitive ideas that culminate in a vision of
relationships and a world we can all aspire to create."
Jonathon Aslay
Evolutionary Love Relationships takes one on a journey growing beyond a transactional approach to love and relationships into a truly transformational act of love and relationships. Bravo Andrew and Chris.
Jonathon Aslay ~ America's Leading Mid-Life Dating & Relationship Coach for Women
Allegra Huston
"Full of wisdom, urgency, and delight in the magnificence of what's possible, this book lays out a vision of love between individual, flawed people as the basis for human transformation. May we all help to make it so!"
Allegra Huston, author of For Eve and Love Child: A Memoir of Family Lost and Found
Carolyn Baker
 In these turbulent times of unprecedented global crisis, do we enter intimate relationships only for comfort and companionship, or is there a more sacred purpose? According to Andrew Harvey and Chris Saade, sacred relationship is a form of worship in which your relationship becomes a prayer that you offer to the Divine. It is also a blessing to all living beings as both partners engage not only in relationship with each other, but in service to the world and the Earth community. Evolutionary Love Relationships is not just another self-help book for romantic partners, but a roadmap for holy intimacy with all that is.
Carolyn Baker, Ph.D., author of Love In The Age Of Ecological Apocalypse: Cultivating The Relationships We Need To Thrive, and Collapsing Consciously: Transformative Truths For Turbulent Times

Mirabai Starr
What would the world look like if two people, deeply in love with each other, harnessed the energy of their connection for the benefit of all beings and the Earth Herself?  In this exciting new book, sacred activists Andrew Harvey and Chris Saade draw on a lifetime of passionately engaged spiritual practice to lift up a vision of intimate relationship as a holy fire to dissolve and transform the most intractable social and environmental crises.
Mirabai Starr
Translator of Dark Night of the Soul: John of the Cross
Author of Caravan of No Despair: A Memoir of Loss and Transformation
Darrell Brown
As a man who has been enamored by a deeply loving and sacred relationship with his wife of 21 years, I found Andrew and Chris's book "Evolutionary Love Relationship's "an amazing doorway to even greater possibility of where our divine communion could transcend to next.
It's an invitation to lovers everywhere to take the sacred bond between them and use it as a platform for a unified life of service for a greater cause.
A delicious invitation that not only strengthens the individual bonds between you but perhaps more importantly, gives rise to a greater calling for you both
I pray that our world is ready for this book.
Darrell Brown,  Best Selling Author  "Raised By Our Childhood Voices"
Catherine Ingram
A sizzling collaboration unfettered by the canards of self-absorbed, new age spirituality interested only in personal happiness. Andrew and Chris dare to encourage a full engagement in sacred activism, sacred sexuality, a celebration of diversity and many more of the deeper understandings while never failing to "honor the paradox of joy and grief." Keep this book near at hand if ever your canvas of life starts to pale.
Catherine Ingram, author of In the Footsteps of Gandhi, Passionate Presence, and A Crack in Everything.
Karuna Erickson
I feel great gratitude for this magnificent and inspiring book! These brilliant teachers, with their passionate and evolutionary vision of love, offer us a guide to the next step into our full human/divine potential. With their authentic and articulate perspective, they awaken us to the courage and energy we need to respond to the world crises we face with compassion and wisdom.  This book is not only a practical guide for creating real change, but also a heartfelt and inspiring prayer for transforming our relationships and our world.
Karuna Erickson, co-author with Andrew Harvey of Heart Yoga, psychotherapist, and director of the Heart Yoga Center
Matthew Fox
This is a daring book, a needed one and a timely one.  It challenges the idolatry of sentimental and privatized love, yes of narcissistic love, that the modern age has bequeathed to us.  It carries us into a new paradigm of relationships that integrates both the beauty and the suffering, the ecstasy and the anguish, of the world.  It puts all efforts at human love—from friendship to creativity to forgiveness to love making—into the greater context of a sacred and evolving cosmic history and with it the responsibility of divinizing  culture so that healing, celebrating and justice-making are nurtured and sustained.  This book enlightens the heart and challenges the comfortable to awaken a single and sacred fire expressed in both the compassion of intimacy and the compassion of service that the world is hungry for.
Chris Grosso
The direct experience of love—honest, ragged, roll up your sleeves and get in the mud kind of love—is needed now more than ever in the world. In their book, Evolutionary Love Relationships, Andrew Harvey and Chris Saade show readers how to live from this place of authentic and unconditional love in a way that can quite literally change the world. Please, read this book and see for yourself.
Chris Grosso, author of Indie Spiritualist and Everything Mind
Scott Brown
Just when we most need to take our relationships and our activism to the next level, Andrew Harvey and Chris Saade inspire us to merge the passion of intimate love with the longing for a nonviolent world. In Evolutionary Love Relationships, these two visionaries offer direct transmission of the aliveness available to us all when these powerful energies merge. This beautiful step in the evolution of sacred activism opens the heart and fills us with renewed passion for life in all its juicy fullness!
Scott Brown, peacemaker, psychologist, and author of Active Peace: A Mindful Path to a Nonviolent World
Dora E. McQuaid
Andrew Harvey and Chris Saade, in Evolutionary Love Relationships, offer both a vivid and valid exploration of the possibility of divine love embodied within our most intimate relationships and a clear and compelling guide for building those connections that sustain us in both our private lives and our public roles. This brave and brilliant book is rallying cry for the (r)evolutionary love that transforms us from our inner core and continually fortifies us so that we may take that love into a world in deep need of its presence and power in service of justice, compassion and solidarity. Not only do our lives depend on the incarnated evolution of love that Andrew and Chris so eloquently detail in this book, but the future of both humanity and our planet depend upon it, as well. Brave loving will uplift and save us, and Chris and Andrew show us here how to answer and embody its glorious call.
Dora E. McQuaid, poet, activist and author of the scorched earth

Brad Laughlin
Gratitude to Chris Saade and Andrew Harvey for this inspiring elucidation of a pioneering topic—evolutionary love relationships. It's a profound and visionary guide, rich with practical tools and exercises, for people who aspire to share their love beyond private partnership. When couples offer their love and passion not just to each other but in shared service to the Earth, the whole becomes greater than the sum of its parts. Not only are we sacred activists, but we awaken to our own authentic Self—which is divine love. At this pivotal moment of our evolution, Harvey and Saade offer a treasure house of wisdom that guides us beyond an old paradigm of isolated relationships into a new paradigm of the heart where we put our love into action. Love itself is evolving, and this book leads the way to an essential, radical shift in consciousness, of paramount importance for our times.
Brad Laughlin
Author/Teacher/Non-profit director
Gary S. Bobroff
Carl Jung recognized that the primary disease of our age is an imbalance which privileges Masculine modes of being over Feminine ones.  In the book, Harvey and Saade show us a pathway for the lived integration of these essential energies.
A testimony on walking the path of sacred embodiment, they unveil the beauty of the divine unity living inside each of us. Their emphasis on the importance of honoring our essential nature echoes my own deepest beliefs about the archetypal nature of the Self.
Never tripping the New-Age-light-fantastic, they remain grounded throughout and
continually invite the presence of brokenness, theirs and our own, into the conversation
They encourage us to pour our imagination – and even our shadow desires – into the container of loving relationship and they show us that in doing so we are serving the divine!  A beautiful, radiant and visionary work.  Congratulations!
Gary S. Bobroff – Author of Crop Circles, Jung & the Reemergence of the Archetypal Feminine

Philip Shepherd
"Here is a vision of partnership, a vision of love itself, that cracks open the cramped confines of expectation and disappointment that can plague a relationship, and widens the heart into the companionship of the Divine.  Evolutionary Love Relationships shows us the greatest gift of coupledom – that by devoting yourselves together in service to what lies beyond your private love, you deepen into the true source of love, and into the true passion of your life.  This beautiful book will help move the whole world forward."
Philip Shepherd, New Self New World: Recovering Our Senses in the Twenty-first Century.
Stephanie Marohn
In Evolutionary Love Relationships, the combination of Andrew Harvey's Sacred Activism and Chris Saade's Integra model of partnership offers a richly inspiring template for love in the twenty-first century: love that is dedicated to radical authenticity, deep connection, and service to the planet. Their template is more of a gorgeous tapestry, woven from their individually visionary voices and dialogue between them. Evolutionary love can be cultivated in any relationship, they tell us, whether lover, colleague, friend, family member, or element of nature. In their vision of love, we find the solution to the world's problems, which would dissolve if enough of us loved in this way. May evolutionary love tip the balance soon to restore the health of the planet and all beings living upon Her!
Stephanie Marohn, author of What the Animals Taught Me: Stories of Love and Healing from a Farm Animal Sanctuary and Goddess Shift: Women Leading for a Change
Thanissara
This timely book is an in-depth exploration of the fabric and potentiality of relationships that are forged and grown through the alchemy of love. The two authors, Andrew Harvey and Chris Saade, who bring a depth of wisdom and insight to this often fraught territory, encourage the reader to explore how personal relationship, rather than being an end in itself, is actually the ground from which to protect the Earth and its species from ecocide, and ourselves from the forces of narcissistic destruction. This work, of great importance for our collective evolutionary journey, will help us place the building blocks for a rejuvenated, compassionate society that reclaims the sacred and heals the wounded. This is a book we should all read.
Thanissara, author of Time To Stand Up, An Engaged Buddhist Manifesto for Our Earth.
Banafsheh Sayyad
Evolutionary Love Relationships is a revolutionary treatise on love relationships. It invites us into a wholly new, conscious relating where couples can transform their narcissistic and possessive ties into sacred bonds that evolve them individually and our world through them. Bravo to Andrew Harvey and Chris Saade.
Katy Koontz
Evolutionary Love Relationships offers us a revolutionary view of relationship. Andrew Harvey and Chris Saade invite us to a totally new level of love and passion where love for one's partner is intertwined with Divine love and so carries the power to transform the world. But far from holding this out as a lofty goal that we could aspire to if we felt up to it, they make a convincing case that the practice of this level of love is what we were in fact designed for—and that the universe is actually depending on us to do just that. Their call to action is inspiring and reminds us that in a world that seems hellbent on chaos and destruction, each of us has the ability to be a vital part of what will ultimately turn that around. —Katy Koontz, editor, Unity Magazine
Karen Rivers
Andrew Harvey and Chris Saade have articulated the paradigm for the deepest, most fulfilling, and enduring relationships known to humanity. When two people find connection, not only on the physical, soul, and spiritual levels of their lives, but also share the same engagement in their life purpose and contribution to human evolution, they experience a level of shared fulfillment and love that unites them in a most blessed and enduring partnership, while serving others through their passion for change. This book awakens the reader to an empowerment in love relationships, that breaks through the stereotype of romantic love.
—Karen Rivers, author of Love and the Evolution of Consciousness
Robert Ohotto
"Within our current human and planetary crisis Andrew and Chris offer us a cutting-edge alchemical guide on how we can practically transform the lead of our times into gold using a much needed evolutionary Vision of Love. This heart provoking book is a must read, written by two visionaries who are redefining what it means to be a thought-leader. The Integra Model taught in this book shows us how to summon a New Dawn out of our current Dark Night and I know it will change your life like it has mine."
Robert Ohotto – Best Selling Author of Transforming Fate into Destiny
Scott Blum
This is a powerful and innovative roadmap that outlines the essential evolution of human relationships. Its practical advice is coupled with revolutionary concepts that wholly redefine and elevate what it means to love in today's modern world. Far beyond what others have even attempted, these words will be referenced for decades to come.
– Scott Blum, Co-founder, DailyOM
Mark Matousek
Can romantic love be an offering to planet Earth, a path of sacred activism for couples who want relationships to serve more than their private satisfactions?  In their illuminating, radical manifesto, Andrew Harvey and Chris Saade offer a road map to evolutionary love in the 21st century.  If you've ever felt trapped in by the cliches of love, the roles of marriage, or the selfishness that fuels the romantic myth, read this book.
Mark Matousek
Ethical Wisdom: The Search For a Moral Life
Juna & Justin Milano
Evolutionary Love Relationships is for those of us who question the current idealized and overly romanticized narrative of loving relationships. It is for those that seek a model of relating that is true, honest, transformative, sustainable, and deeply loving. In this compelling book, Andrew Harvey and Chris Saade skillfully touch into the ever-evolving magic that is relational love, while offering a powerful and insightful interpretation of what loving relationships can be — profoundly authentic, radically awake, and in service to the world around us. This book is a major contribution to the exploration of loving relationships. We literally could not put it down. We give Evolutionary Love Relationships our highest recommendation.
– Juna & Justin Milano, Co-founders of DailyRelationship.com
Sole Satya
"The Kahuna from Hawaii say that it is the seeker that takes herself to the threshold but it is Spirit who carries her through. As we are touching the healing and transformative threshold that lies between a sexually and spiritually traumatized heartbroken humanity and a passionate, authentic, embodied, and awaken one, I find Andrew's and Chris' "Evolutionary Love Relationships" book an absolute gem.
The Sacred Love Relationship and Sexuality field has become a saturated "industry" with sugar coated self-help books, workshops and trainings full of bypassing, transcendence and narcissistic ungrounded views by self-proclaimed gurus who have little if none experience of grounded loving service and relationship.
In this magnificent book, these two contemporary mystic activists go deep into this never ending subject of relationship, giving the reader an exquisite outlook and framework of what is a real, embodied and authentic loving relationship.
Full of depth and insight, they invite us in the most elegant way, to become passionate lovers, not just to our beloved but to the whole world by embracing all our divinity, leaving behind any infantile notions of loving relationships and embracing this life's paradoxes. Definitely not for the faint hearted.
Sole Satya
Dorothy Walters
This brilliant book opens for us a doorway into previously unexamined territory.  In elegant and lucid language it reveals the need for all of us––especially committed pairs––to turn our faces outward and participate together in the giant task of taking action at this time of global crisis.  The authors point out with deftness and acumen that those who work in loving partnership can often achieve more than solo warriors in the cause.  This riveting work appears at precisely the right moment in our history, as we face an uncertain future.  Evolutionary Love Relationships is in fact an essential guidebook for our times, demonstrating that love, coupled with service, can accomplish miracles.
Dorothy Walters, PHD  author, mystic poet, guide    "Some Kiss We Want: Poems Selected and New"
Lynn Bell
The call to passion in these pages creates implosions in the reader,
implosions that break  the seed's hard covering and invite it to erupt into
flame. We wonder at the energy of exceptional people. Chris and Andrew
reveal the secret. They  call each of us to passion, to love, in our
relationships with each other, with God and the world, in such a way that we
are renewed rather than depleted. They argue that sealing ourselves off,
'privatizing' what we have. diminishes everyone, that Love can open us to
move into the world, and evoke change.  We are at a crossroad in the great
cosmic cycles, one that calls us to give birth to the new. The signs of
breakdown and danger, the alternative that Andrew calls  a dark night for
the soul of the Earth, can thrust us into a terrible future or bring us to
an evolutionary breakthrough. This urgent invitation for love to spill out
from the confines of the purely personal, from the bonds of materialism,
comes at a time of great import. The pattern of the new world is emerging
through the actions of humanity as a whole.  As each of us bursts into the
power of light, we move the world with its love. Only someone with Andrew
Harvey's  brilliant gift for words, coupled with Chris Saade's deep
commitment to evolutionary love could give us such a powerful book.
Lynn Bell,   Astrologer, Author, Teacher.
Hillary Raimo
"The world needs a better way to love. As people, partnerships and passion evolve so to does the need for better understanding the ever evolving dynamic of being in relation. Andrew and Chris offer readers a pathway through the recesses of emotion and mental perception bridging that into realistic and grounded ways of achieving results. This book offers a tangible way to the center of the heart."
Hillary Raimo, founder of YinRadioTV and Love, Breathe for Earth
Chloe Goodchild
The theme of this book is – as I know you know –  a life's passion, and I can't wait to discuss it more with you. It's an inspiring work,
and one which has been increasingly knocking on my door – both in my own personal and global life. I am increasingly aware
how the Naked Voice work assists and transforms individual groups organisations, to realise the evolutionary power and sound
of their own conscious relationships and the global relationships entrusted to their care.
Chloe Goodchild
Shayne Traviss
"This book embodies the very purpose of manifestation, the foundation of love and the wisdom to incorporate it into every aspect of our lives. Invoking richer, fuller relationships rooted in divine authenticity and service."
Shayne Traviss. Student of Life, Producer & Founder of VividLife.me